When it comes to developing the best possible packaging for any food or beverage product, there is a vast range of important considerations for businesses to remember. And these factors don't change much when it comes to the packaging of protein drinks and other protein or nutrition-based goods. But what exactly are these considerations? And with so many to consider, which ones are the most important for both businesses and consumers?
The supply chain management experts here at Dynamic 3PL can help explain just that while also providing you with SQF (Standard Quality Food) certified warehousing options. We offer businesses access to safe, sanitary environments for food product handling, packaging, storage, and dispatching to simplify the transition of goods into the hands of eager consumers. Please continue reading to learn more about the considerations needed for quality protein drink packaging.
Related: 4 Trends in the food and beverage industry to watch in 2021
What Packaging Factors are the Most Important to Consider?
Businesses and consumers alike have a range of essential factors to consider when determining the best, most preferred types of packaging used to contain their products. While cost has always been and will always be one of the most critical considerations for businesses and product consumers alike, two other vital components come with protein drink labeling. One is the adherence to Food and Drug Administration (FDA) regulations as required by United States law. The other is environmental sustainability and the promotion of positive social impacts, which have risen to be another top consideration over the past several decades.
FDA Packaging Rules and Regulations for Dietary Supplements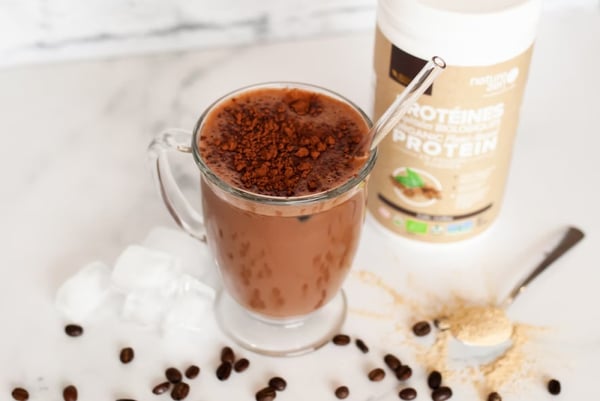 According to the FDA, protein drinks and powders are considered dietary supplements, which means they have specific labeling requirements for their packaging that businesses must adhere to for their products to be sold on the market. The majority of these regulations came about due to the Fair Packaging and Labeling Act (FPLA) of 1967. The fundamental rules that businesses need to keep in mind when creating their packaging labels for protein drinks and other such supplements are:
Appropriate Labeling for General Dietary Supplements
The packaging labels of all dietary supplements must include specific information for the benefit of consumers. This includes any products containing vitamins, herbs, minerals, other botanicals, and amino acids intended to supplement a person's diet.
Related: What it means to be a Food Grade warehouse
Identity Statements
Every packaging label must include the name of the supplement, whether it's a common name or one specified by law. If a name does not exist for a product, its identity must appear in a clear description on the label.
Nutrition Labeling
Nutritional labels on supplement packaging, otherwise knowns as "Supplement Facts," show the amount per serving and % daily value of vitamins, minerals, and other vital ingredients contained within the product.
Does your business require the expert services of a supply chain management team to help you overcome packaging, warehousing, and transportation struggles? Consider reaching out to our trusted professionals here at Dynamic 3PL today.
Net Quantity of Contents Labeling
In short, the net quantity of contents refers to the total amount of supplement contained within a package, which can be provided in measurements of ounces, grams, or pounds, depending on the preferences of the product manufacturer.
Ingredient Labeling
All of the ingredients contained in a protein drink or other health supplement are required to be listed on the nutrition label described above. Because of this, there is no need for businesses to include an ingredient label. However, if additional ingredients in the product are not listed in the "Supplement Facts" label, they'll need to be written out separately.
New Dietary Ingredient Labeling
Any ingredients included in the product that were not marketed in the United States before October 15th, 1994, are classified by the FDA as "new dietary ingredients." Any business that produces a new product containing any of these ingredients is required to notify the Food and Drug Administration at least 75 days prior to introducing and distributing the product on the open market.
Said notification must contain all information related to the business's conclusion that the dietary ingredient is reasonably expected to be safe for consumers under the recommended conditions also provided on the product label.
Claims
Claims on the protein packaging label should display the level of nutrients contained in the product. For example, how many milligrams of specific vitamins and minerals are present in a single serving.
Related: 3 Food and beverage packaging trends to keep an eye on in 2021
Environmental Sustainability and The Use of Renewable Resources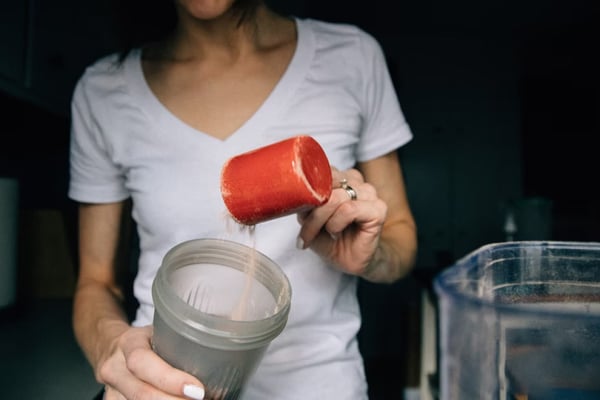 Aside from costs and adhering to the above labeling regulations of the FDA, the third most significant factor companies need to consider when developing their packaging is environmental sustainability. An increasing number of consumers diligently check packaging labels to ensure products and brands dedicate themselves to providing environmentally sustainable goods and packaging for said goods before making a purchase. Said shift has resulted in a strong push by many companies towards using more renewable resources within countless industries.
For example, in the protein drink industry, companies like Premier Protein are now offering responsibly sourced packaging, including paper-made cartons from sustainably managed forests, that utilize re-sealable plant-based caps derived from sugarcane. Businesses that care about the environment (and care about their consumers who care about the environment) would do well to look into sustainable forms of product packaging if they have not already done so.
Final Considerations to Keep in Mind
Each of the above factors is a critical element of consideration for companies looking to produce adequate packaging for their protein drinks and other health supplement products. If you'd like more information about other essential elements of the product creation, handling, packaging, storing, and dispatching processes, please consider contacting the trusted industry professionals at Dynamic 3PL today to learn about their range of top-quality services. And don't forget to explore their range of expertly written educational articles for even more information.
Are you struggling to locate an effective packaging, warehousing, and transportation services provider to overcome supply chain management struggles? Our trusted industry experts here at Dynamic 3PL are here to help ensure your customers and partners are left fully satisfied and ready to do more business.