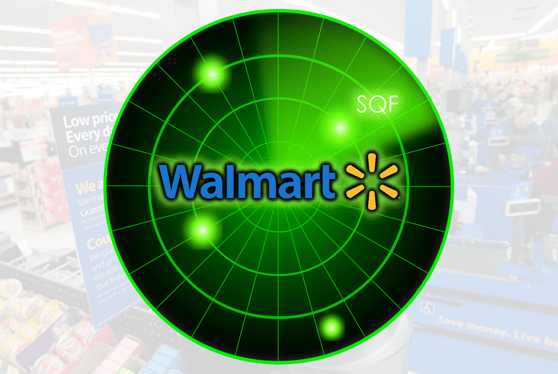 Back in 2008, Walmart stores became the first nationwide grocery chain in the United States to require suppliers and distributors of food products to have their facilities certified for the internationally recognized Global Food Safety Initiative standards. With aim to instill consumer confidence in the food products customers place in their carts, the GFSI now lists Walmart among the most prestigious of companies who have agreed to improve food safety through the higher and consistent auditing standard known as SQF, or Safe Quality Food.
"Our customers expect high quality at every day low prices when they purchase any of our private label foods, and we're committed to meeting – and exceeding – their expectations," says Walmart SVP Andrea Thomas, "The GFSI standards are an added step that will help us – and our U.S. food producers – keep our quality commitment."
This set of standards is something that food product suppliers must adhere to in order to find a place on Walmart's nationwide shelves, and it's no small undertaking. We are talking about renovations, cleanings, training sessions, wait periods, inspections, audits, and countless other variables that are going to impede your readiness to expand. It can take the upwards of 18 months for some companies to meet the acceptable standards. It's worth considering outsourced packaging and distribution solutions, such as an SQF-certified 3PL, in order to more cost-effectively meet these standards. Why concern yourself with such as extensive, rigorous, expensive process when there may already be a well-oiled operation fully ready and willing to take that load off your shoulders?
An experienced, certified 3PL operation with a longstanding track record will already have been through it all. They've long overcome whatever inevitable pitfalls a young distributor is bound to run into. They know what the big box retail companies like Walmart have come to expect, and they will offer a level of first-hand expertise that might not otherwise be available.
A 3PL that already meets these stringent standards and offers a high level of experience and expertise is going to make your supply chain a more fruitful, more efficient, more professional partner for the retailers without all the added stress and excessive overhead cost. One supplier's headache is another 3PL's business as usual. Simplify your end of the supply chain and become a visible blip on the radar for big box retailers like Walmart, all the while reducing distribution cost? A 3PL with the proper certification can yield all of this and more for your supply chain.